Teaching in Lincolnshire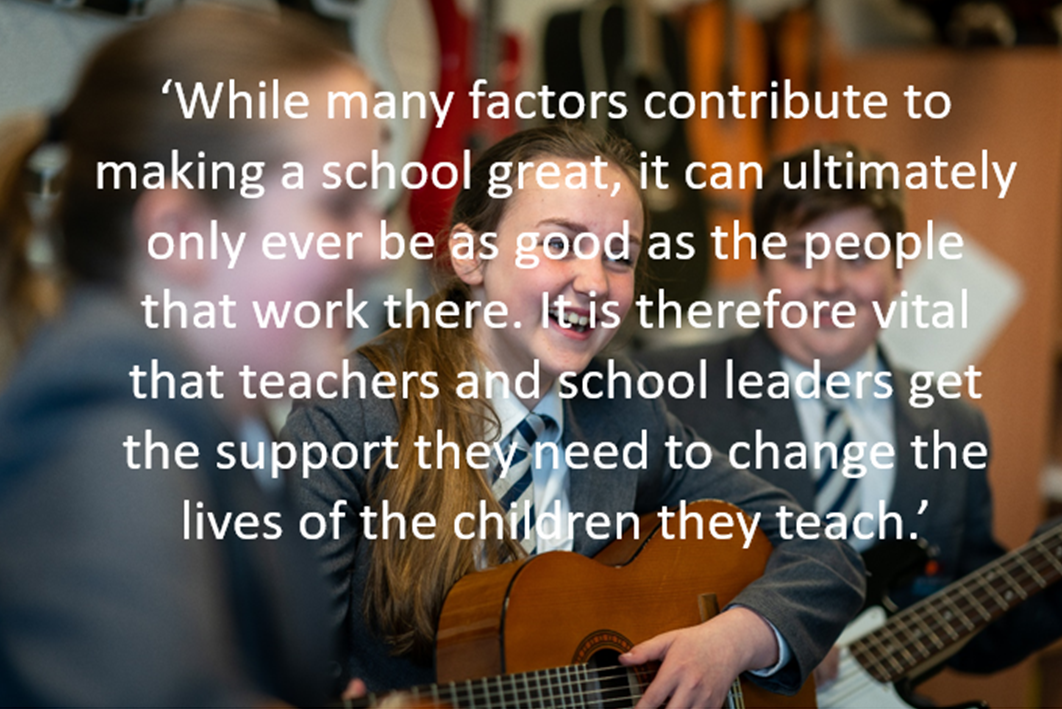 Why Teach /Introduction?
'A Career with Impact' :

A career where every day matters and no two days are ever the same.
If you are considering hosting a trainee or you are an aspirant teacher who is eager to shape the lives of pupils in Lincolnshire, then we are eager to support you in understanding the options which are available to you. Across the region there are a number of providers who offer teacher training. To ensure that the pathway into teaching is as successful as possible, L.E.A.D. Teaching School Hub is committed to working with providers, supporting the highest quality training from the outset and a seamless transition across to the Early Career Framework afterwards.
Getting into Teaching and How to Apply?
A good place to start for general information on becoming a teacher is the DfE Get into Teaching website. This offers good general information from how to:
Set up a school experience visit, identifying what primary/secondary school life is like
Check if you have the correct qualifications to apply for a teacher training programme
Guidance on the application for a place on a teacher training programme
Funding which may be available to support you
There is also a step-by-step guide to the process, from thinking about training to teach through to application.
If you prefer to speak directly to local teacher training providers for more information, follow the links to each individual provider at the bottom of this page.
Do not hesitate to get in touch with Charlotte Smith who works on behalf of the Hub to lead Initial Teacher Training across Lincolnshire : charlotte@leadtshub.co.uk (01522 214459) to find out more or have a further discussion about your circumstances and future options.
Background/ Introduction/ Government Reforms:
In December 2021, the Department for Education published an initial teacher training market review report outlining the response to the ITT reforms. This report makes a range of recommendations including the following:
ITT should develop an evidence-based training curriculum

Providers should design and deliver an intensive placement experience of at least 4 weeks (20 days) for single-year courses and 6 weeks (30 days) for undergraduate, over the duration of their course

Single-year ITT courses that lead to QTS should be required to be of 38 weeks' duration, as a condition of accreditation, of which the minimum spent in schools should be 28 weeks

Providers should identify, as a condition of accreditation, sufficient 'lead mentors' who will ensure that trainees receive mentoring and support across placement schools

Providers should ensure that lead mentors take one of: the NPQLTD, one of the other 2 specialist NPQs, or training with the equivalent content and quality ( this is an ambition not a requirement)

Providers should develop a detailed training curriculum for mentors at all levels,

Providers should demonstrate the capacity to develop an assessment framework

Teaching school hubs should partner with an accredited provider to play a role in the delivery of ITT

P

roviders should design and implement rigorous quality assurance arrangements

A

s trusts grow, there should be an expectation that they actively meet their responsibilities for ITT involvement in the areas they serve.

Read the full report here:
The Framework for Initial Teacher Training:
The ITT Core Content Framework sets out the learning priorities that will make up a teacher trainee's course. Created according to evidence compiled by the Education Endowment Foundation (EEF), the Core Content Framework (CCF) is the basis for training in five core areas: behaviour management, pedagogy, curriculum, assessment and professional behaviours.
The CCF spells out the minimum requirements for completion of an ITT course, from understanding how to teach phonics to using models and scaffolds to teach complicated ideas. This creates an evidence-based standard in theoretical and practical aspects for all teacher training providers to follow.
Why Teach in Lincolnshire/ How to help yourself decide if teaching is for you?
These new reforms will alter significant parts of teacher training as an experience. If you're a graduate reading this, you might find that the changes outlined make you feel more interested in exploring the idea of becoming a teacher yourself. You'll gain first-hand experience of the realities of working in classrooms, supporting teachers and interacting with pupils each day. You'll also be supported by several packs of free training materials aligned to teacher training curriculums and the Teachers' Standards. This will provide an immensely valuable preview of what to expect from your ITT course.
Why not come to our Train to Teach Event held in Lincoln? See the flyer below: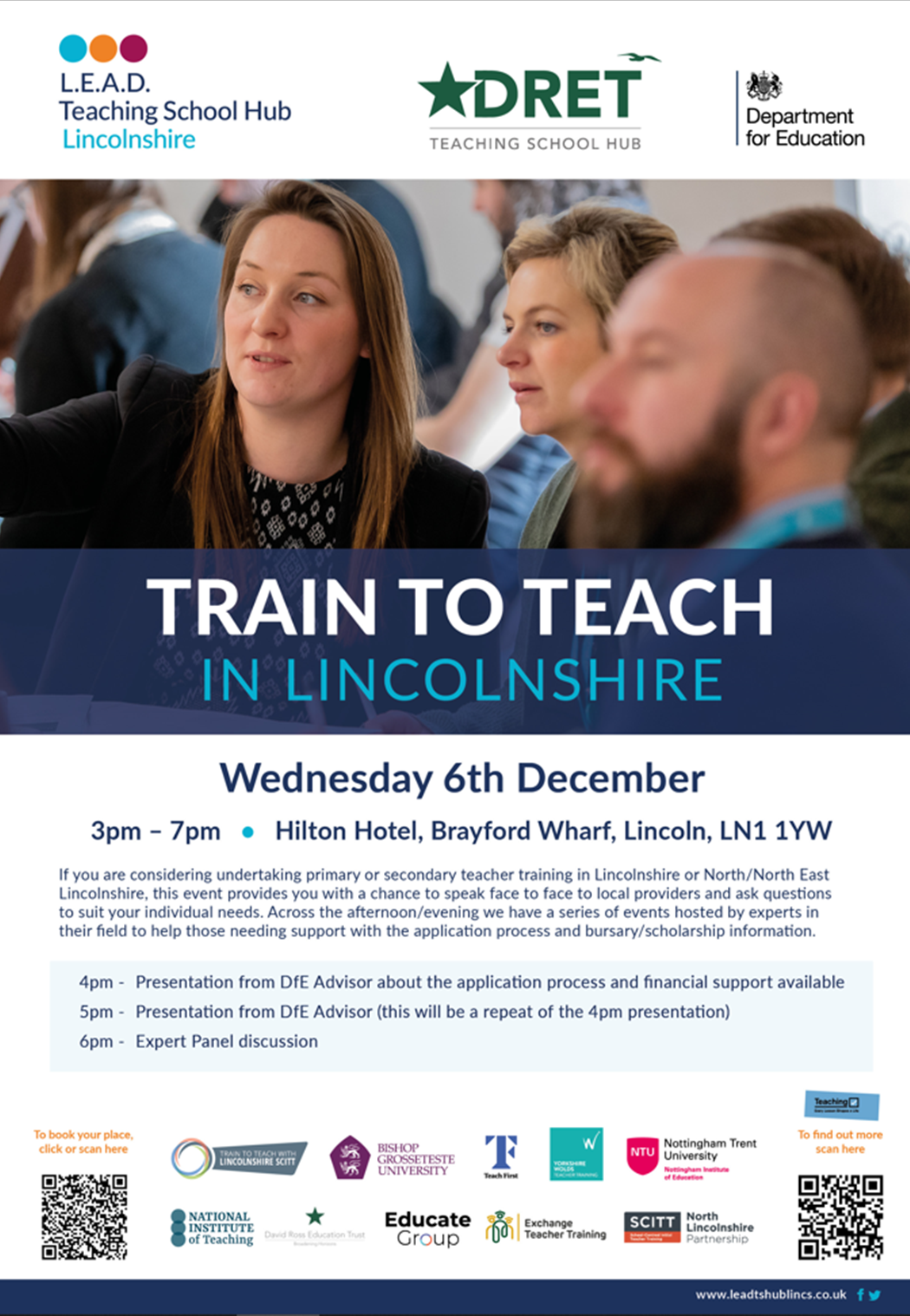 Funding/Bursaries
Funding and fees will look different depending on whether you are applying for a salaried route or a fee-paying (bursary) route. More information about these different routes can be found at GetintoTeaching. The tuition fee for 2023/24 is £9,250. If you need help covering the tuition fee or require a maintenance loan please visit www.gov.uk/student-finance for further information.
You could also qualify for a scholarship or tax-free bursary depending on your degree subject and qualification, please see the 2023/24 figures here. Bursaries and scholarships are available to trainees on a fee-based teacher training course in England that leads to the award of QTS. Additional financial support is also available if you're a parent, have an adult dependent or have a disability.
We would strongly recommend that you apply for student finance at an early stage to ensure funding; once you've accepted your place, you can apply for a Tuition Fee Loan and a Maintenance Loan.
It is advisable to discuss this further with your chose ITT provider to ensure that you are fully aware of the funding model before accessing the programme.
Additionally, lead mentors play an important part in the ITT landscape as experts in their subject areas, possessing a deep knowledge of the trainee curriculum, giving support to ITT trainees and the mentors working with them. The DfE have reviewed the funding model for this alongside funding which is dedicated to helping providers with the costs of delivering the new intensive training and practice element as set out in the 2024/25 ITT criteria. More information in relation to this funding can be found in the 'reform funding guide document' below.
Visit and volunteer in schools
To help you decide if teaching is right for you, and to support your application, you should do some observation, work or volunteering in schools. If you are not sure which age or subject would suit you, contact schools in your area and ask to observe in a classroom. You should also speak to the teaching staff about the challenges and rewards of teaching and ensure you understand both the nature and demands of the job. This will not only help you make your decision but will ensure you are stronger in the interview process.

As a School are you on the DfE list for offering this experience?
Your school setting can appear on the DfE manage school experience list so that you can host people looking to gain experience of being in a school environment. Please visit the following link to find out more. https://www.gov.uk/guidance/manage-school-experience-service-information-for-schools#about-the-service
FOR SCHOOLS: Why Host a Trainee?/School Experience
Having ownership of ITT means that you can influence what teachers learn and what they experience from the very beginning of their career. Over time, trainees not only become experts within their subjects, but also become expert in your trust or school's context, giving you a pipeline of talent for roles across the trust or local network of schools.That's why every teacher should have access to high-quality professional development from the very outset of their career. Hosting a trainee can offer a number of benefits including:
Tackling recruitment challenges

Improving teacher retention

Supporting and fulfilling your schools' education mission
In the meantime, we thank you all for the work you do in your schools to support trainees to become effective practitioners who make a positive difference to the life chances of Lincolnshire's young people.
The leaflet below helps to explain to schools leaders the changes within Initial Teacher Training from September 24, under the new ITT criteria and quality requirements. The leaflet also helps schools to understand how they can engage in ITT with the four main providers offering teacher training within the county.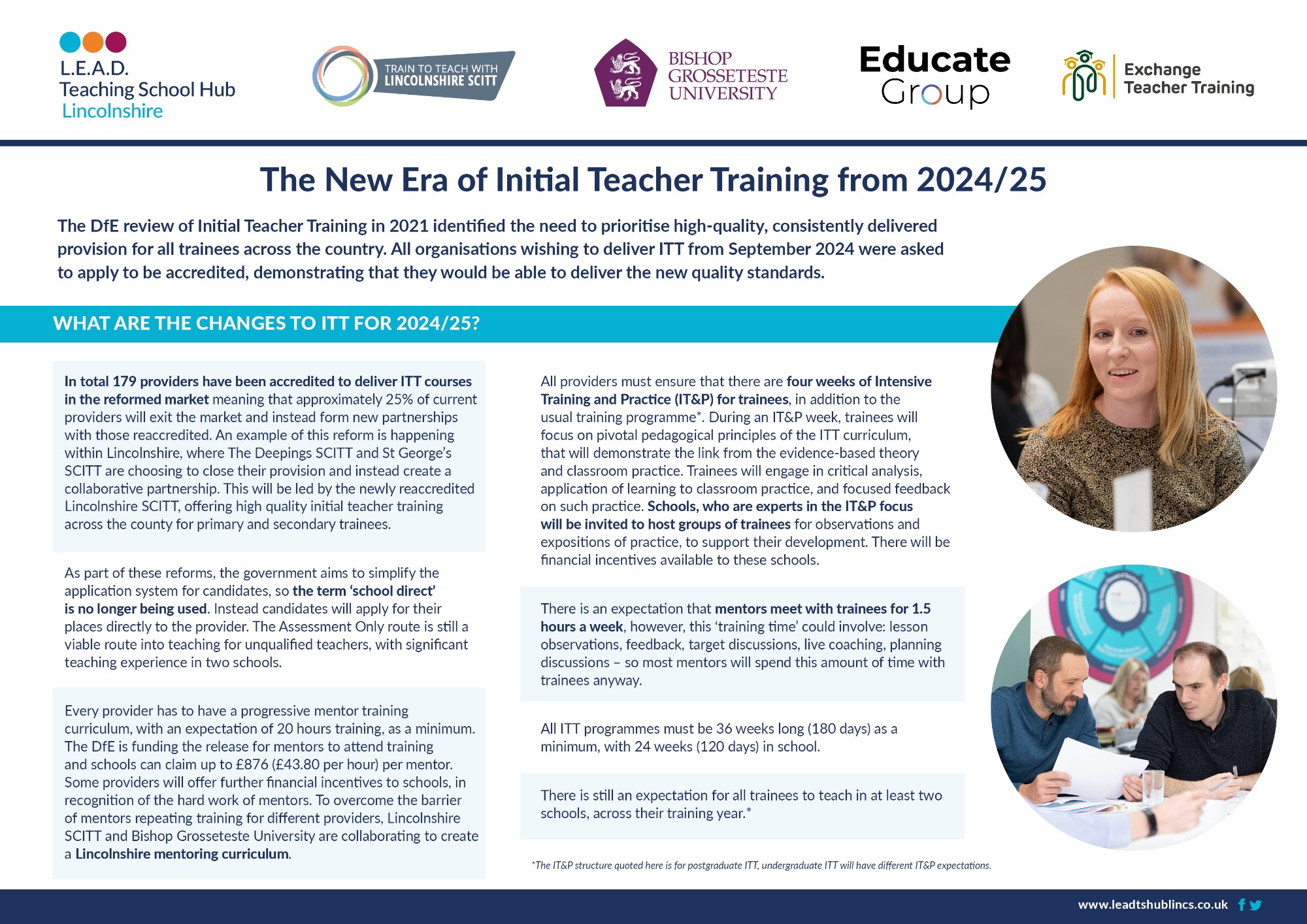 Working in Partnership: The Teaching School Hub and ITT Provider

s/

Schools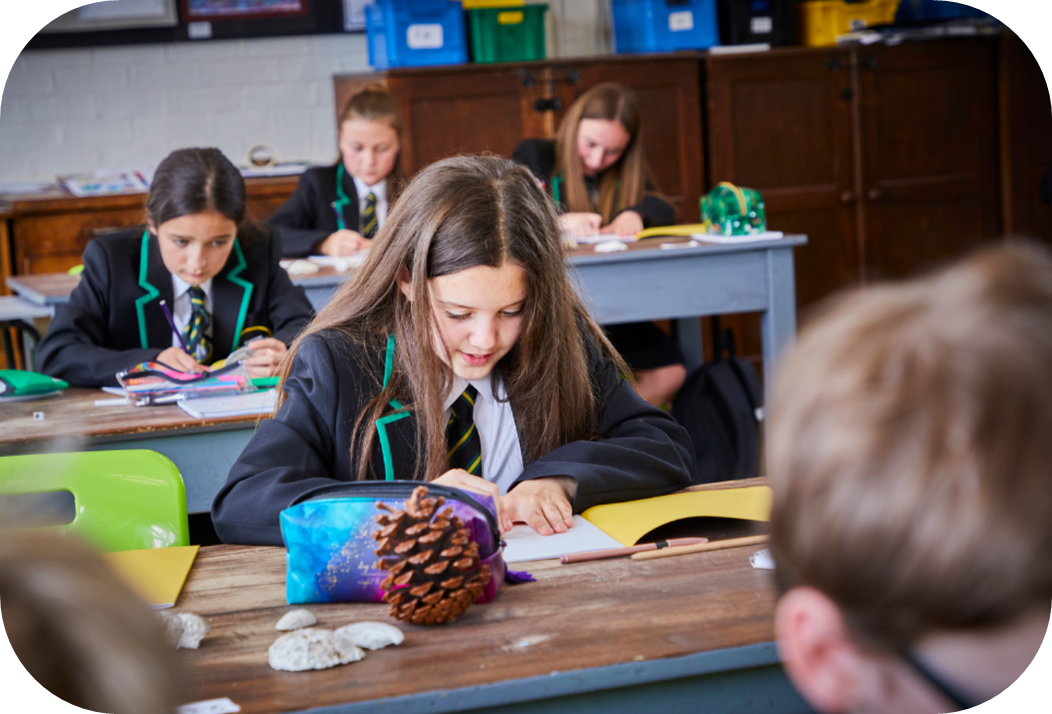 Prior to and following the national market review and process for reaccredit ation of initial teacher education, the Teaching School Hub has always been committed to high quality support and training for all who enter the profession. To that end, the Hub has worked strategically for a number of years with all accredited partners operating in the area, forming a strategic board to focus on the following aspects:
securing a pipeline of high quality teachers for schools across the county

the curriculum for ITT, ECTs and Mentors to ensure that it is impactful, drawing upon significant expertise to ensure that high quality provision prevails.

Supporting and developing school capacity for ITT through mentors and the wider staff culture

Supporting and sourcing high quality intensive practice placements

Coherently tracking the engagement of schools in the ITT placements, informing and supporting the landscape further

focus on current challenges faced by our sector and will seek to involve experts from the ITT field to inform our thinking.
Equally, L.E.A.D. Teaching School Hub works in partnership with all schools across the county of Lincolnshire, supporting placements and individual needs. Please do contact the Hub on 01522 214459 , asking for Charlotte Smith if you would like to discuss any elements relating to Initial Teacher Training or hosting a trainee.
Accredited Providers: What are the options for training to teach in Lincolnshire?
These are the providers who offer Initial Teacher Training across Lincolnshire and have been successfully DfE accredited from 2024 onwards. Please take the time to visit each site to access their offer.